I Can for Kids launches new website, identity and key changes to program
One would be hard-pressed to find anyone who hasn't been profoundly changed by events of the past year. In fact, change is probably the one thing we've all come to expect. Last year when our food supply and distribution channels were dramatically affected due to COVID-19, we quickly responded – along with our dedicated donors, sponsors and agency partners.
In the midst of last year's challenges, we saw that grocery gift cards presented a truly effective way of providing support to the more than 50,000 children and youth in Calgary that experience food insecurity. Grocery gift cards meant that families could access stores closer to home and purchase food that meets their personal, cultural, religious, and health needs. Distributing these cards to families via our agency partners allows them the opportunity to "shop where everyone else shops" – a more dignified way to provide support. Our approach represents a major shift in how we get food to hungry children and youth.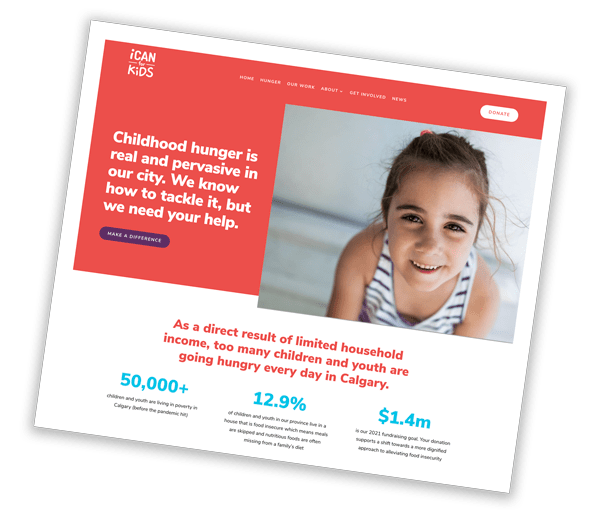 Sharing what we've learned
Our shift in programming is driven by evidence gathered over the past year. Through our own evaluations as well as our University of Calgary research study supported by the O'Brien Institute for Public Health, we are confident in our new approach and recognize we have a responsibility to share what we've learned with the people who invest in our work – our donors, sponsors and volunteers. With that said, I Can for Kids is very excited to present our new website representing a bold new direction for our organization, our partners, and the children and youth we serve.
"We've got such an important story to tell," says Tim Lane, I Can for Kids board member and communications lead. "Our distinct new brand reflects the boldness of our approach to alleviate food insecurity for children and youth in Calgary."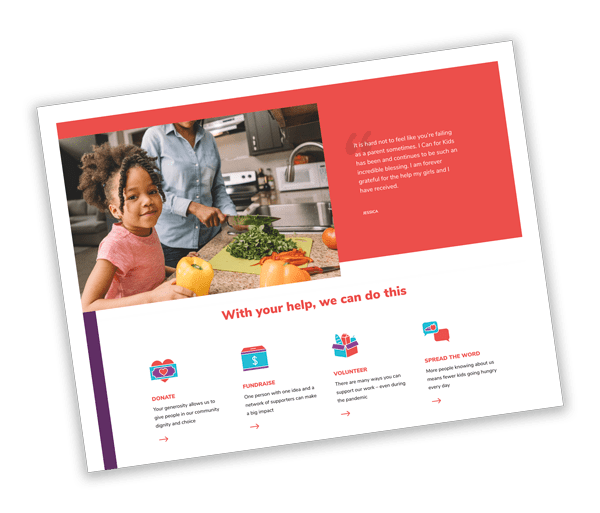 Beyond a refreshed logo and colour palette
Our updated website tells a compelling story about hunger issues in Calgary and I Can for Kids' work to address food insecurity. It also includes important resources that have helped frame our approach. We highlight how research supports our shift toward grocery gift cards and how food packs and fresh food supports continue to play an important role. The website also recognizes the efforts of our sponsors and volunteers without whom none of this happens.
Executive Director, Bobbi Turko adds, "I'm so pleased at how our agency partners, donors and sponsors have responded to our expanded program. They've met with us (virtually) and provided thoughtful insight and practical support through a difficult time. Our evidence-based approach to addressing food insecurity is paving a new path forward for how we care for hungry kids in our city."
Over the coming months I Can for Kids will continue to share stories of how our new grocery gift card model, combined with elements of our Grab and Go food packs and fresh food supports, is having an impact on the lives of Calgary's children and youth.
---
Learn more about who we are and how we're impacting the lives of hungry children in Calgary, visit www.icanforkids.ca.