Right now in Calgary, there are over 50,000 children going hungry in our city.
It seems like an insurmountable mountain of a problem. But not to Karen Knowlton, partner at Stawowski McGill, local outdoor enthusiast, hiker and lifelong athlete. Mountains are meant to be climbed. And that's just what Karen's going to do to help feed hungry kids in Calgary.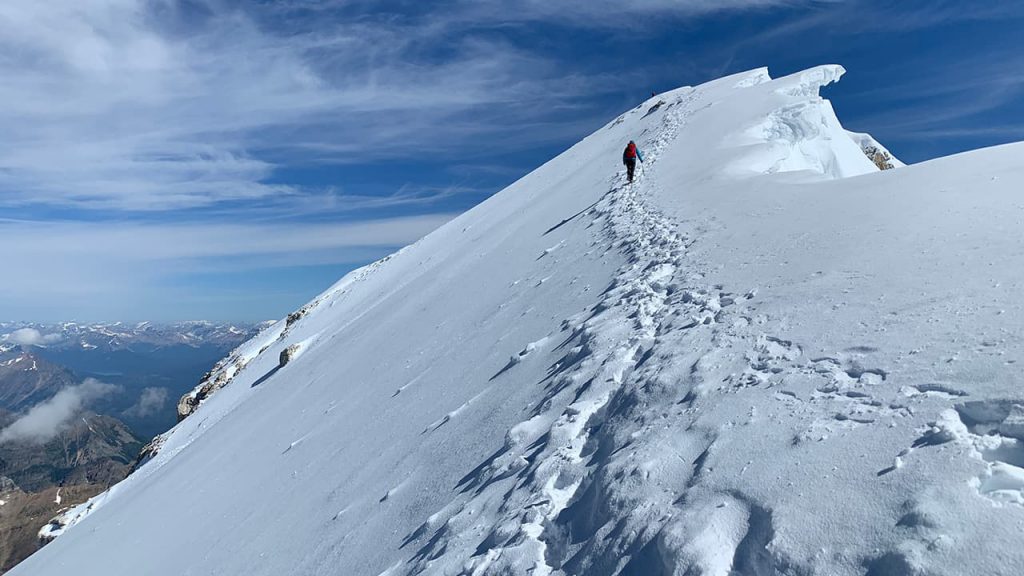 On July 23rd, 2021, Karen will stand atop the summit of Mount Athabasca (3,491m) in Jasper National Park. Her challenging climb will raise awareness and money to help I Can for Kids – a small but mighty organization – tackle that mountain of childhood hunger every day. It's a cause that is near and dear to Karen's heart and purpose.
She isn't tackling this challenge alone. Your donations will drive her to the summit while local Canmore guiding company, Ridgeline Guiding will have her back all the way.
Reaching the summit and her fundraising goal of $25,000 is something that feeds Karen's community spirit and will help I Can for Kids feed more hungry kids. Nutritious food helps kids grow, cope with stress, do better in school, engage more with peers, and give them a better chance – a fighting chance – of growing into healthy adults.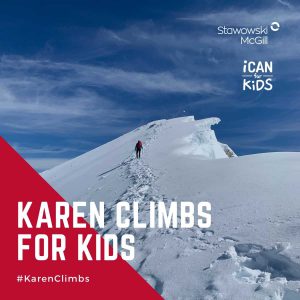 You can support Karen's journey by joining her on a training hike or simply by making a donation – every dollar raised is a step closer to the summit, a step closer to her fundraising goal. Make your donation here: https://www.canadahelps.org/en/pages/karen-climbs-for-kids/.
Double Your Impact!
Thanks to the generosity of CHAS (Children's Hospital Aid Society), they will match the first $5,000 raised dollar for dollar. You can learn more about CHAS here https://chascalgary.ca/.
Training Hikes
You can join Karen as she trains for her big adventure! To learn more, please contact Chris at chris.day@stawowskimcgill.ca.
About I Can for Kids
Since 2015, I Can for Kids has been supporting thousands of hungry children in Calgary every year. We work closely with over 25 local social service agency partners with direct connections to children in need to distribute nutritious food packs, fresh fruits and vegetables, and grocery gift cards. Our grocery gift card program is a more dignified and inclusive approach to dealing with hunger, allowing families to shop where everyone else shops and choose foods that are appropriate to their personal and cultural needs. In 2020, we fed over 28,000 kids in 136 communities across the city.
---
Learn more about who we are and how we're impacting the lives of hungry children in Calgary, visit www.icanforkids.ca.