Although it's nothing more than a cultural superstition that bad luck always comes in threes, I Can for Kids (iCAN) found it heartbreaking to learn that this grim myth came to fruition for a young immigrant family in Calgary this past summer. First, the mother received a terminal cancer diagnosis with just weeks to live and the father had to quit his job to support his ailing wife and their distraught children. Second, the sudden boom in the Calgary real estate market inspired their landlord to sell the house that they were renting with little notice to find a new home. Third, they lost their entire supply of fresh and frozen food due to an unexpected refrigerator malfunction on the very morning that they had escaped the city to spend a peaceful day together in nature.
Such a dire combination of financial shocks is a common scenario for the 1 in 5 households across our city who experience food insecurity because they suddenly can't afford enough healthy food due to a lack of income. For well over a decade, leading researchers in Canada have highlighted the need to establish policies and responses that address inadequate economic resources as the root cause of food insecurity, including ideas such as a basic income guarantee or changes to income tax rates or minimum wages. That's why iCAN has pioneered an income-based approach to support food-insecure and low-income children and families who cannot meet all their basic needs.
Amid the sudden and total disruption of the global pandemic, iCAN embraced the opportunity to transition from a traditional food provision model to an innovative grocery gift card program. One of the major goals of this radical shift was to lend more support to poverty reduction efforts by researching and showcasing whether moderate amounts of targeted food subsidies could lead to positive outcomes for equity-seeking populations. The O'Brien Institute for Public Health at the University of Calgary offered to partner with us to measure the impact of our new approach. The results of our research unequivocally demonstrate that targeting grocery gift cards to food-insecure families boosts their social, emotional, financial, and physical well-being in ways that food programs simply cannot achieve.
While the iCAN grocery gift card program certainly doesn't represent or replace a formal policy response, we have aligned our efforts as closely as possible with current recommendations to establish income-based solutions that address the negative consequences of poverty. We are also aware that certain food-insecure populations require more intensive support to achieve any benefit from a grocery gift card approach. However, we believe that ongoing research and evaluation of our grocery gift card program will contribute to the growing body of evidence that highlights how modest income subsidies can help prevent serious public health issues, including food insecurity. For example, in 2018, the Manitoba Centre for Health Policy demonstrated how a moderate and unconditional prenatal income supplement was strongly linked to better birth outcomes among low-income mothers. We're hoping other charities will eventually show similar benefits by supporting vulnerable populations with dignified and income-based supports that alleviate the harmful impacts of food insecurity.
Inspired by a conceptual plan from the Government of Scotland, iCAN encourages all sectors to adopt a new paradigm for tackling the ever-growing issue of food insecurity in Calgary and beyond. Figure 1 represents a hierarchy of responses where the strongest approach would implement income policies that prevent food insecurity. Our grocery gift card program lands directly in the middle of these options just below the role of federal, provincial, and municipal governments. It's important to note that even though free food provision remains the most popular approach across our society, years of research demonstrates that it's also the least effective.
Figure 1: Hierarchy of responses to food insecurity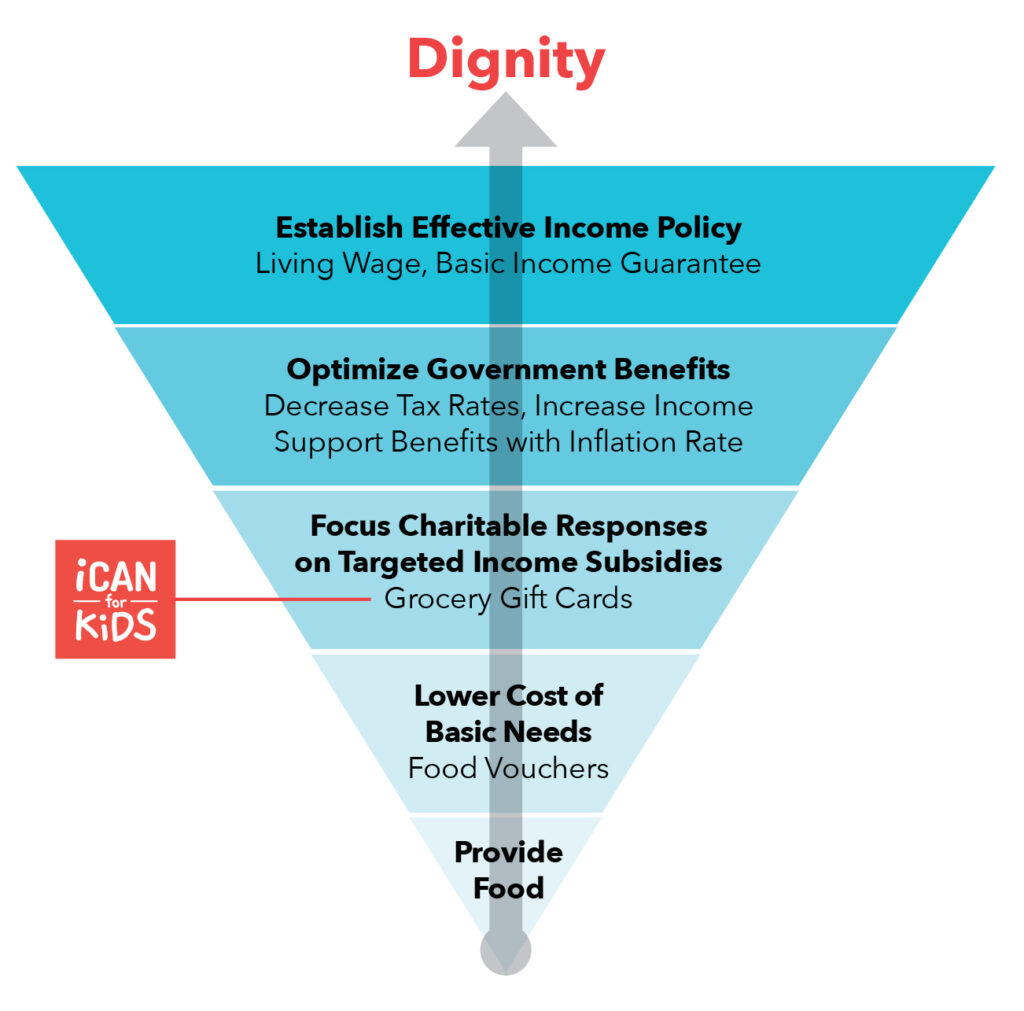 For more than four decades, multiple sectors across Canada have invested considerable effort, time, and resources into sustaining an inefficient, disjointed, undignified, and separate food system that distributes donated products to food-insecure populations who really just need help addressing their financial inequities. It's time to elevate the charitable response to a position that truly inspires more movement towards income-based strategies that would essentially eradicate the demand for emergency food support altogether. We can no longer continue to advocate for policy interventions while raising funds to promote a band aid approach to food insecurity. It just doesn't make sense.
So how do our proposed changes relate to the young immigrant family from the beginning of this story? Due to the generosity of our donors and the expertise of our amazing agency partners, iCAN was able to provide this father enough support that he could quickly replenish his family's food resources while searching for a new home, a new job, and new after-school childcare. He was incredibly relieved to have convenient access to a local grocery store near his home where he could use the gift cards to buy familiar cultural foods for his children during a very stressful time in their lives. And he was able to dedicate some of his limited budget to pay for other important essentials as his grieving family navigated their next steps.
But it doesn't end here. Now that iCAN has established the many benefits of tackling food insecurity through an income-based charitable response, the next step is to focus on sustaining and expanding the impact until effective poverty reduction strategies and policies take full effect. We feel great responsibility to prevent a recurrence of the major pitfalls that currently exist across the siloed food provision system in our city. Therefore, we welcome all players to collaborate with us if they work with food-insecure populations and no longer wish to engage in the cumbersome and inefficient process of food provision. We can create partnerships with stakeholders who would like to avoid or ease the burden of starting their own grocery gift card program.
Most importantly, our research has shown that innovation is not only feasible, but also highly impactful.
About Donald Barker
Donald has worked as a registered dietitian for more than 25 years. He also has a professional background in communications and has long advocated for populations who face adverse, unjust, or systemic barriers that lead to higher rates of poor social, mental, emotional, and physical health outcomes. Donald currently volunteers as an Advisor with iCAN to support our transition towards evidence-based approaches that help improve the well-being of children in Calgary who live in low-income and food-insecure households. You can learn more about Donald at www.synthesist.pro
About I Can for Kids Foundation
I Can for Kids works closely with multiple agency partners to target and distribute grocery gift cards to food-insecure families who are most in need. The iCAN grocery gift card program is a more dignified and inclusive approach to dealing with food insecurity, allowing families to shop where everyone else shops and to choose foods that are appropriate for their health and cultural needs. Last year, iCAN supported more than 34,000 children across Calgary.
For more information and media inquiries, please contact iCAN Executive Director, Bobbi Turko at bobbi@icanforkids.ca.