Sprout Society has realized exceptional success and growth. But for Conner and Amy, giving back to the community was just as important as their achievement in the kitchen.
Seven years ago, I Can for Kids was created to address the gaps in our city's food provision system – specifically summer hunger, when thousands of kids lose access to their school breakfast and programs during the summer break. When COVID-19 hit in March 2020, we needed to shift our thinking and implement new and innovative approaches to ensure vulnerable children could access the food they needed to support their development.
We weren't the only ones who had to tap into our entrepreneurial spirit. The pandemic impacted the employment situation for thousands of people who found themselves suddenly needing to reinvent their careers. But often from struggle, amazing ideas are born.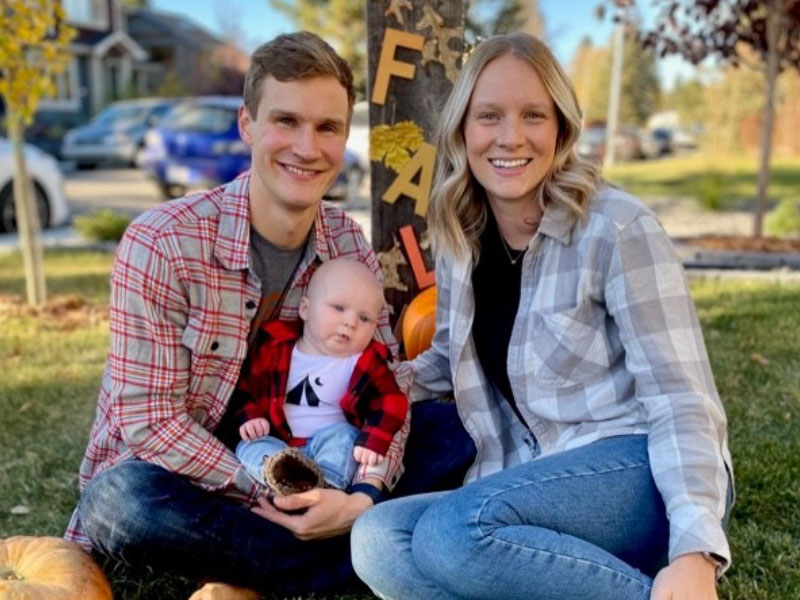 Meet Conner and Amy Kadziolka – founders of Sprout Society.
"When we started Sprout Society at the start of 2020, we were ourselves having our careers impacted by Covid-19, and yet still had so much to be grateful for. We knew that families who were already struggling would now be facing even more job insecurity and lack of access to basic needs, including food. Food has always been a huge passion of ours, we both love to cook, eat and share our food with those that we love and we truly believe that having access to healthy and adequate food is something that everyone, especially children should have."
Conner and Amy are no strangers to the plight of vulnerable people. Along with countless hours of volunteering with a variety of organizations in Calgary, Conner's teaching career and Amy's social work background gives them a special understanding of how children and families in our city are impacted by food insecurity and poverty.
Conner shared, "It was hard to imagine that many kids in our own beautiful city struggled to get enough to eat daily. This is something you hear about happening around the world, but it's not easy to accept that a city like Calgary is unable to support all of its residents in such a basic and important way. Feelings of disbelief come to mind, followed by sadness and anger and finally a wanting to make an impact as much as possible."
Amy first learned about I Can for Kids in 2015 while working with elementary schools in Calgary. "Flash forward to 2020, when I started working with Closer to Home Community Services. I Can for Kids had shifted towards providing grocery gift cards to community agencies due to Covid-19 so that these agencies could distribute them to families in need during the pandemic. Many families I worked with couldn't describe how grateful they were for the support of these grocery cards. Families were stressed due to lay offs, jobs being shut down, schools being closed and yet their family still needed to eat everyday. The gift cards not only provided groceries, but they also gave families back a sense of empowerment to pick out food that suited the cultural and dietary needs of their own family without the stigma sometimes attached to accessing community resources.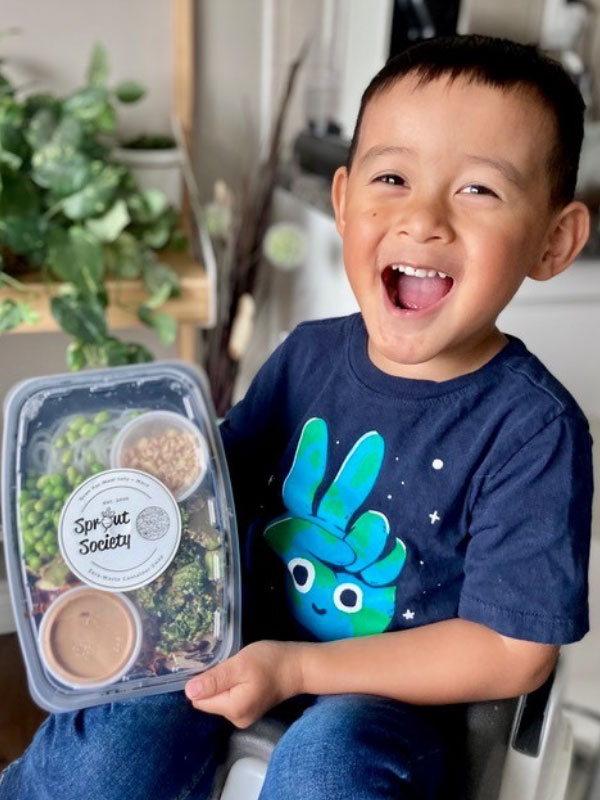 I learned through these interactions that I Can for Kids works to ensure kids and families that are struggling have access to enough food and healthy food whenever possible. They truly were able to pivot during the pandemic and do something that hasn't ever really been done, by giving the power back to the families through grocery gift cards."
Sprout Society has realized exceptional success and growth. But for Conner and Amy, giving back to the community was just as important as their achievement in the kitchen. "We knew from day one of starting Sprout Society that we wanted to be a business that gave back to our community, the city that had raised us and our families. As we cook and provide healthy meals to our clients, it made sense to partner with an agency centered around providing food to Calgarian families and kids. Since Amy has worked directly and indirectly with I Can for Kids for multiple years and seen the progression and growth of the wonderful work they do, it made sense to us to create a partnership."
When we asked Conner and Amy what they hope for the future of kids in Calgary, their answer was simple:
"We hope that Calgarian kids are able to grow, thrive and enjoy being young, without worrying about what they will put in their bellies that day! We hope that kids in our city can learn to make smart and healthy food choices, feeling empowered to enjoy choosing and cooking food."
Sprout Society makes it easy to live a healthier, happier lifestyle by using fresh, local ingredients to create meals that are 100% plant-based, nutritionally packed, zero-waste, and wildly delicious – and they deliver right to your door!
They're also making it easy to support hungry kids in Calgary by donating a portion of every meal purchased to I Can for Kids. To learn more about Sprout and how you can enjoy their amazing creations, visit https://sproutsociety.ca/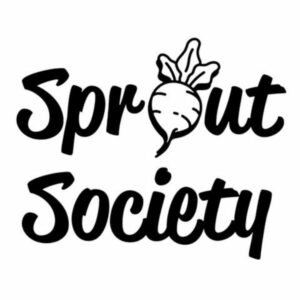 ---
It's time to tackle childhood hunger.
We're on it, but we need your help – our fundraising goal for 2021 is $1.4 million. Please donate today!